Cyberattack on ChatBooks caused a Data Breach (15 million users' personal data compromised)
ChatBooks, an online printing service, reported to its customers that user credentials were stolen as a result of cyber attack. Personal data of approx 15 million users was compromised and now are being sold online.
What happened?
ChatBooks data breach is caused by Shiny Hunters, a hacker group. This group is selling compromised data from eleven companies and this dataset that includes 15 million records are on sale for just $3,500. Sample includes personal identifiable information, social media access details, email and password information.
The situation
ChatBooks learned about the data breach on May 5, 2020, only after two days from hackers starting to sell users data on the dark web.
Breach happened on March 26, 2020.
ChatBooks is one of the first companies to acknowledge they were hacked by Shiny Hunters.
What experts are saying
ChatBooks CEO stated that a small section of the stolen records includes "some phone numbers, FacebookIDs, and inactive social media access and merchant tokens were also stolen"
More about the breach
The company stated that no credit card information was stolen and that there is no evidence to suggest that personal data, like photos, was compromised.
The company is working with a digital security and forensics organization to evaluate the extent of the breach.
Hackers can convert the passwords into hashes, add salt, and compare the results with what the stolen database provides. A match means that a password has been cracked.
Bottomline
Company advised users to change their passwords as soon as possible to avoid their accounts being compromised.
Not good enough?
Let's wait and see on the results of the investigation to see if potential claims can be made.
If you have received a data breach notice from ChatBooks or your data has been compromised or you noticed suspicious activity, this indicates that you are likely a victim of data breach and you may be entitled to claim compensation. Please let us know, so we can investigate this for a potential compensation claim.
Are you a victim of data breach? You might have a right to compensation - up to $750CHECK COMPENSATION FOR FREE
Letter from ChatBooks CEO about data breach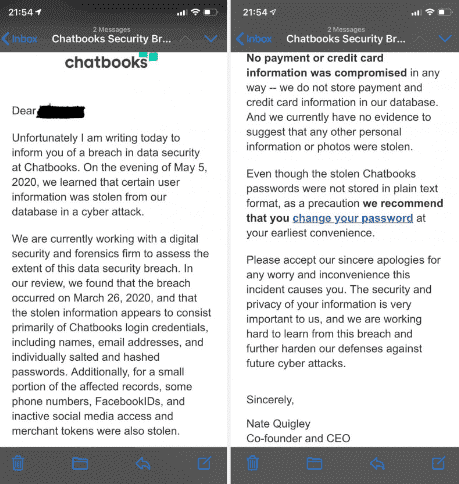 Attachments